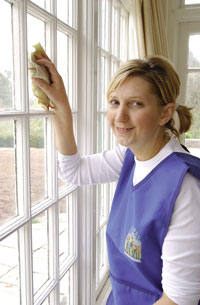 SelClene Ayrshire - reliable cleaners for your home
To give yourself maximum "me time", pick up the phone and call Selclene. We are always here to help. You can call us on 01292 4437777 and talk to either Gisela or Angela.
While it can be therapeutic to spend 4 hours thoroughly cleaning your kitchen, it's four hours you'll never have again. In today's world there seems to be a massive lack of time. Rushing to work, to see friends and family or just to get it all done. Just think of what you could do with the time you spend cleaning your home.
Why not free up your time by leaving all those household tasks to us? No more Sundays spent ironing or cleaning the bathroom, giving you more time to do the things you really want to do.
Established in 1989, SelClene Ayrshire can provide you with a stress-free domestic cleaning service to meet all of your needs. We provide friendly and professional cleaners, individually matched to your particular cleaning requirement.
If you're looking for an easy and reliable way to find a cleaner for your home, we can help. Use SelClene Ayrshire to find your cleaner and get:
Peace of mind - you know your cleaner has been through a rigorous recruitment process
Friendly, local service to meet your needs - our experienced staff will find the right cleaner for you
Reliable cover - a replacement cleaner should your cleaner be ill

Insured service - you are protected against any accidental damage (terms and conditions apply).

Whether you live in a flat, house or a bungalow we have the right cleaning service for you. Call us now on 01292 443777 or
email us your enquiry
to find out more.